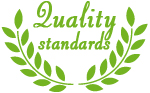 IFEM Research France insures that proper quality standards are consistently applied, involving tight control of the entire chain of operations on the field.


Focus group recruitment, moderation, management, and report writing capabilities.
Mystery shopping, face to face, phone, email or online.
In-house center for Cati and web-based online interviews.
Nationwide fieldwork for face-to-face interviews, whether CAPI or PAPI.
In-house high profile moderators for both in-depth and B to B methodologies.
Internal progamming and processing capabilities.